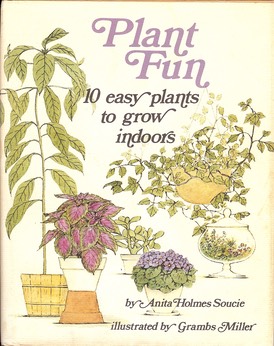 Plant Fun: 10 Easy Plants to Grow Indoors
by Anita Holmes Soucie
illustrated by Grambs Miller

Four Winds Press, New York. 1974

ISBN  0-590-07323-0

ABOUT THE BOOK
Plant Fun: 10 Easy Plants to Grow Indoors is a beautifully illustrated, how-to indoor gardening book for all ages. It was published in 1974 by Four Winds Press under Anita's married name, Anita Holmes Soucie. 
Separate chapters contain detailed instructions for caring for each of the ten easy-to-grow house plants featured in the book. These range from the ubiquitous philodendron and hard-to-kill grape ivy to cacti and African violets. 
Three introductory chapters provide novice gardeners with helpful information on soil types and containers, general plant care, and propagation. Final chapters supply instructions for setting up terrariums, grouping plants, and dealing with specific problems. 
Although currently out of print, Plant Fun can be obtained through used bookstores as well as online distributors.

COMMENDATIONS

Plant Fun was well reviewed and received the following commendations:

American Library Association (ALA) Notable Children's Books, 1974;

National Science Teachers Association's (NSTA) Outstanding Science Trade Books for Children, 1974;

School Library Journal (SLJ) Best Books of the Year, 1974.
HOW TO PURCHASE

Although currently out of print, Plant Fun can be obtained through used bookstores as well as online distributors. 
REVIEWS
"Since the days of the Hanging Gardens of Babylon, the cultivation of plants has gone through various periods of popularity, until once again the nurturing of florae has come into vogue. The new volume about the growing of indoor plants is one of the best to have appeared recently for young readers or for novice horticulturists of all ages." – Horn Book
"A first-rate beginner's guide." – School Library Journal
"Ms. Soucie obviously loves plants and is quite knowledgeable, and her guide is simple and well-organized . . . Useful, in view of the increasing popularity of indoor gardening." – Kirkus Reviews
"Excellent." – ALA Booklist
"Every fact of indoor plant care that is found in comprehensive garden books aimed at the adult reader are here . . . . " – Instructor
"Graceful but detailed pencil drawings support the readable and informative text . . . A comprehensive resource for the novice." – Nancy E. Allen and Rosanne J. Jurenka, Beyond the bean seed: gardening activities for grades K-6


AUTHOR'S NOTE
"At the time I wrote Plant Fun, the inside of my home had become a virtual greenhouse. Plants occupied every available window ledge as I experimented with the best location for raising the 10 featured plants. Some hung from planters. Others were lined up on windowsills or beneath windows on stools, tables, what have you, anything that could elevate them enough to receive the sunlight. I converted one of the guest rooms into a virtual potting shed where I experimented with every conceivable way to propagate the plants. It is not enough that an author research books carefully. It also helps to immerse yourself in the subject matter. This I did, and thankfully my family accepted the invasion."


ABOUT THE ILLUSTRATOR
"I was so honored when my editor informed me that the very talented Grambs Miller (Aronson) would illustrate my book. I had already come to admire Grambs's work on Thalassa Cruso's Making Things Grow: A Practical Guide for the Indoor Gardener. Plant Fun would not have had the success it did had it not been for Grambs's amazing illustrations. I shall be forever grateful. Sadly Grambs died just one day after her 94th birthday in March 2010, but she left behind an amazing body of work and many good friends and colleagues."


Back to Books by Anita Holmes.