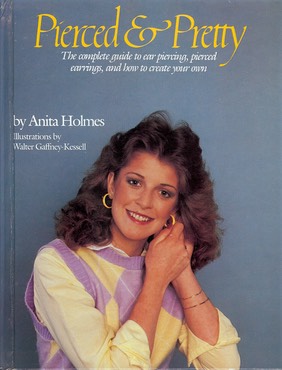 Pierced & Pretty: The Complete Guide to Ear Piercing,
Pierced Earrings, and How to Create Your Own
by Anita Holmes
illustrations by Walter Gaffney-Kessell
Lothrop, Lee & Shepard Books, New York. 1984
ISBN 0-688-03819-0 lib. bdg.
ISBN 0-688-03820-4 pbk.

ABOUT THE BOOK

Who were the first people to wear earrings? How have earring styles changed over the centuries? Where can you get your ears pierced? Is ear-piercing safe and how do you care for pierced ears? These are some of the questions answered in Pierced & Pretty: The Complete Guide to Ear Piercing, Pierced Earrings, and How to Create Your Own.
The book is divided into four sections: The Earring––A Universal Ornament; An Ancient Ornament; You and Your Ears; Making Your Own Earrings. 
The first two sections cover the fascinating five-thousand-year history of earrings and describe where earrings are worn today. (Anthropologists believe that the wearing of earrings and other jewelry may have predated the wearing of clothing. The first metal earrings were crafted in Mesopotamia perhaps as far back as 3,000 B.C.)  
Sections Three and Four provide information on ear piercing, ear care, and how to make your own earrings. The book also includes a helpful glossary and a bibliography.
HOW TO PURCHASE

Although currently out of print, Pierced & Pretty can be obtained through used bookstores as well as online distributors. A few autographed new but slightly scuffed hardback Library edition copies are available directly from Anita Holmes for $30. Free shipping in the USA. Follow the directions on the Contact page to order.

REVIEWS

"Earrings have always been with us, and this surprisingly informative and well-illustrated paperback includes examples of ear jewels from many cultures and periods of history, as well as a short discussion of what is actually involved in ear piercing. Professional piercing is recommended but there are instructions for making some simple and good-looking earrings at home and a useful glossary of jewelers' terms." – New York Times Book Review
"The book is easy to understand and follow, with clear black-and-white drawings on every page that supplement the text. although the subject is a limited one, Holmes covers it quite completely. – School Library Journal
"There is a lot of history connected with pierced earrings and the author presents an extremely readable story." – The Book Report
"Amply illustrated with fine line black-and-white drawings, Holmes' primer on ear piercing begins with a cross-cultural survey of ear ornamentation past and present. " – ALA Booklist
"An unusually practical book for girls . . ." – Catholic Weekly

AUTHOR'S NOTE
"As noted on the back cover of Pierced & Pretty, I got the idea to do this book when my daughter, then a teenager, asked to have her ears pierced. My first response was an emphatic "no," because I thought of ear piercing as bohemian and not something young girls should do. (My, how times have changed!) I also had serious questions about the safety of ear piercing. But my daughter's desire to pierce her ears persisted so finally I did what I do fairly well––researched the matter. I learned everything I could about ear piercing and in the process became fascinated with the history of earrings and ear piercing. The happy result was Pierced & Pretty. And, needless to say, my daughter ultimately got her ears pierced, and so did I!" 


Back to Books by Anita Holmes.