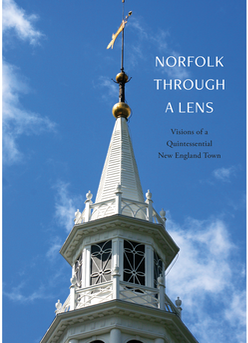 Norfolk Through a Lens: Visions of a Quintessential New England Town
by Anita Holmes
Text by Anita Holmes

Photo editing by Peter Coffeen
The NTL Group, Norfolk, CT. 2016

ISBN: 0-692-76808-4 [cloth]
ISBN-13: 978-0-692-76808-2 [cloth]
ABOUT THE BOOK

Norfolk Through a Lens: Visions of a Quintessential New England Town is a large format coffee table book celebrating the beauty that is Norfolk, CT. It features more than 150 works of a remarkably gifted and diverse group of Norfolk artist photographers.
>>>PEEK INSIDE: Go to the next page to see a slideshow of sample pages. 

ABOUT THE PHOTOGRAPHERS

Norfolk Through a Lens features photographs by these 10 photographers, all residents of Norfolk, CT: Jennifer Almquist, Peter Coffeen, Mahlon F. Craft, Bruce Frisch, Katherine Griswold, Anita Holmes, James Jasper, Christopher Little, Babs Perkins, and Rick Schatzberg. 
IPPY (Independent Publisher) AWARD WINNER 2017

In 2017 Norfolk Through a Lens: Visions of a Quintessential New England Town won second place in the IPPY US Northeast - Best Regional Non-Fiction category . Ippy awards are given out each year to honor the year's best independently published books. See story: http://norfolkart.org/norfolk-through-a-lens--.html
PURCHASE
You can purchase a copy of Norfolk Through a Lens directly from Anita using the information on the Contact page. Free shipping in the USA. The book is also available from The Norfolk Library, Norfolk, CT, and The Berkshire Country Store, Norfolk, CT. The price is $65 plus $4.13 sales tax.
COPYRIGHT NOTICE
This book was copyrighted in 2016 by Anita Holmes. All photographs are copyrighted by the individual photographers. All rights reserved.
Back to Books by Anita Holmes.