It's always awkward writing about oneself, but here goes . . .
The Early Years
I was born in California and spent part of my childhood in Missouri, New York, and Texas. I have also lived in Maryland, New Mexico, North Carolina, and Connecticut. Presently I live in Norfolk, a small town in northwestern Connecticut.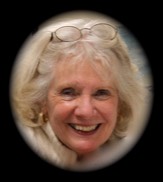 I can thank my family for my interest in literature, writing, and art. Several women on my mother's side of the family were writers. And many folks on my mother's side were great storytellers, particularly the men. My grandfather was good at spinning Texas-type yarns that he told in assorted Texas dialects. My mother's two brothers carried on the family tradition and did a good job of keeping the family in stiches with their fishing stories or stories about their Texas boyhoods. But the women in the family, my great-grandmother, grandmother, and mother in particular, were pretty good storytellers as well, and their stories were told with dramatic flair. My mother was probably the most flamboyant of all. I spent a lot of my childhood hanging around these adults and listening to their stories.
My interest in books began in early childhood, although I was not a great reader. Instead, my mother read to us, always punctuating the story with dramatic effects.  My first non-fiction interest was possibly a field guide to butterflies. I was quite the collector during my days as a Girl Scout, a fact that makes me cringe today in this age of ecological and environmental awareness.
I don't recall writing a lot when I was in elementary school. In fact, during grade school I was much more interested in socializing than in academics, but I did carry on a heavy correspondence with a couple of overseas pen pals in those years. I became interested in journalism while in high school and wrote for the school newspaper. In my senior year I worked on my high school yearbook. My interest in journalism carried me into my Freshman year at El Camino College in Los Angeles where I held the position of City Editor on the school newspaper. Later, at Cal State L.A. (then Los Angeles State University), I majored in literature and served as the editor of the school literary magazine, Statement.

Publishing Career
After college I used the editorial experience I gained in school to begin a career in publishing. My first job was with Bank of America in San Francisco, working as the production editor in the Training Department. Later, I moved to New York City and took a job with Prentice Hall. I have had a long career in writing, editing, and other creative pursuits since those early days in San Francisco and New York. For information about my work history, click here.
Photography
My first photography gig was for Scholastic Magazines. I was doing a fashion story for one of the student magazines and, although we had a staff photographer, I decided to take some photos myself to illustrate the article. A colleague served as a model and we went to Central Park for the shoot. After that, I often took photos to illustrate stories that I had written.
In the 1980s while researching by book on cacti, Cactus: The All-American Plant, I took my camera along while visiting the deserts and desert gardens of the Southwest. I discovered then that I had a knack for nature photography. 
Professional Memberships, Past and Present
Author's Guild, Inc.

Editorial Freelancers Association (EFA)

EdPress

League of American Pen Women, Inc.

National Arts Club, New York, NY

Norfolk Artists & Friends



Other Memberships, Past and Present
Norfolk Battell Arts Foundation

Norfolk Community Associates

Norfolk Committee for Sound Growth (CSG) (board of trustees)

Norfolk Country Club 

Norfolk Democratic Town Committee (congressional liaison) 

Norfolk Historical Society

Norfolk Land Trust

Norfolk Library (board of trustees)
Back to Home.