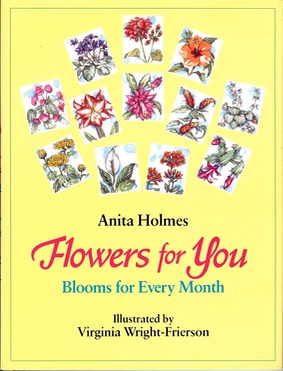 Flowers for You: Blooms for Every Month
by Anita Holmes

illustrated by Virginia Wright-Frierson

Bradbury Press, New York. 1993
ISBN 0-027-44280-2
ABOUT THE BOOK
Flowers for You: Blooms for Every Month is a beautifully illustrated, basic plant-care book. Readers discover how rewarding it can be to choose and grow your own flowering plants. If you make the right choices, you can have flowers in your home all year round.
The book includes general tips on choosing flowering plants and growing them indoors. It introduces readers to twelve special plants and provides instructions on how to care for each. Information at the back of the book provides guidelines for potting and propagating  plants as well as troubleshooting tips.
HOW TO PURCHASE
Although currently out of print, Flowers for You  can be obtained through used bookstores as well as online distributors. A few autographed hardback Library editions are available directly from Anita Holmes for $45. Free shipping in the USA. Follow the directions on the Contact page to order.
REVIEWS
"This excellent introduction to houseplants starts correctly: first you rate your room in terms of light, dryness, and warmth, and then you choose a plant that will flourish in those conditions. After a section on general care, Holmes offers 12 plants that are popular and fairly easy to grow, including the Christmas cactus, geranium, African violet, and
hibiscus. . . .For each plant, a full-page watercolor illustration faces a page of growing tips mixed in with small watercolors of techniques or of children of various ages and ethnic groups absorbed in plant
care. . . . Aimed at elementary grade children, this offering will also satisfy older readers who want a simple guide." – School Library Journal
"Readers interested in growing indoor plants as a hobby will find some helpful information in this volume. The text is loosely divided into three sections––an introductory overview of indoor plants, profiles of twelve types, and concluding information." – Horn Book

"If thinking about growing flowers, this [Flowers for You: Blooms for Every Month] is a great book to get started with because it does not overwhelm with options. Holmes offers twelve different blooms that you can grow inside your house, and all the basics needed for their care. There are also sections dedicated to re-potting plants and other troubleshooting areas, which are certainly helpful for beginners. – The WebSmart Kids Page

AUTHOR'S NOTE
"The glory of this book is its exquisitely rendered "Album of Twelve Special Plants by Season" with full-page watercolor illustrations of each plant. You're not likely to find a more wonderful illustration of an African Violet, Geranium, Hibiscus, Wax Begonia, Amaryllis, Orchid Cactus, Shrimp Plant, Strawberry Geranium, Chrysanthemum, Spathiphyllum, Kalanchoe, or Christmas Cactus than you'll find here, each imaginatively potted in a Virginia Wright-Frierson creation."
Back to Books by Anita Holmes.