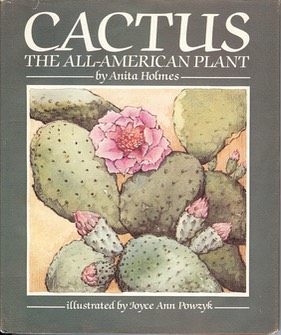 Cactus: The All-American Plant

by Anita Holmes

illustrated by Joyce Ann Powzyk
Four Winds Press, New York. 1982

ISBN 0-590-07402-4
ABOUT THE BOOK

Cactus: The All-American Plant is a beautifully illustrated, natural history book for all ages first published in 1982 by Four Winds Press. Although it is currently out of print, it can be obtained from used bookstores and online distributors. 
If you don't know much about cacti, you will find what you need to know here. This book explains where cacti grow, how they adapt to different environments throughout the Americas, their role in the natural environment, and the characteristics that make a cactus a cactus. It is more than just spines. 
Separate chapters offer ways to cook cacti and instructions on how to raise them. An appendix contains detailed information on how the three cactus tribes, or groups, differ and lists important places where cacti can best be observed and studied. 

COMMENDATIONS

Cactus: The All-American Plant was well reviewed and received the following commendations:

American Library Association (ALA) Notable Children's Books, 1982;


National Science Teachers Association's (NSTA) Outstanding Science Trade Books for Children, 1982;

New York Public Library Children's Book, 1982; 

CCBC (Cooperative Children's Book Center) Choices, 1982;

School Library Journal (SLJ) Best Books of the Year, 1982. 
HOW TO PURCHASE

Although currently out of print, Cactus: The All-American Plan can be obtained through used bookstores as well as online distributors. 
REVIEWS
"There are several books in this one, each one done with great attention and unified with the others to boot. It's a science book that will set a standard by which others are measured. Cactus may seem a bit obscure to some readers, especially those far from cacti country, but the author portrays them with so much pleasure and enthusiasm that any approach to the book, be it hoping for a travelogue, botanical study, recipes of Southwest cooking, will be happily satisfied. The writing is personal: the author is having an adventure and wants you to join her. Yet the scientist in her is also at work, and we get both common and Latin names for varieties, a section on understanding nomenclature so observers can better identify the different types, and the most wonderful yet unerringly accurate illustrations of both the plants and the habitat in which they live, including animal life. As an identification book it is unique––although, alas, no color––because the writing is so good." – School Library Journal
"Unique in appearance, content, and writing style, Cactus the All-American Plant by Anita Holmes takes the reader to the American Southwest to explore desert vegetation. One can almost feel the heat and dryness, experience the beauty of the desert and sense the exciting contrasts of its vegetation. A reader gains an understanding of desert ecology and hints about growing cacti. The recipes for preparing cactus fruit are mouthwatering." – The Reading Teacher
"Those who live in cactus country or who have a special interest in our native American spiny, odd-shaped plants should enjoy Holmes's book on cactus." – Horn Book
"Cactus: The All-American Plant is as good a popular presentation of a group of plants as you are ever apt to find." – Appraisal: Science Books for Young People
"Let Anita Holmes lead your children into the Sonoran Desert for an enthralling view of Cactus, The All-American Plant. . . . She points out the particular characteristics of the prickly plants, their environment, and the animals who cohabit their ecological niche. She writes in a conversational style that will hold youngsters' attention . . . – The Kobrin Letter
"Thorough, various, informative, invitingly designed, and personalized by Holmes' accounts of her own experiences with cacti––from poking about in the early-morning desert, where she has encountered a hawk's nest, woodpecker homes, and a gila monster among the cacti, to serving Connecticut friends a serveral-course cactus dinner. . . . Attractive, interesting, and useful." – Kirkus Reviews
 
AUTHOR'S NOTES

"This book was a pleasure to write and one of my proudest achievements. I got the idea for Cactus while researching the chapter on cacti for my first book, Plant Fun: 10 Easy Plants to Grow Indoors (Four Winds Press, 1974). Until that time I was unaware that cacti were native only to the Americas. While cacti can be found growing in many parts of the world, including Spain, Italy, much of the Middle East, and Africa, they were introduced to these places only after Columbus discovered the Americas.
"I did extensive research for the book, acquiring useful information from the major works on cacti, each mentioned in the extensive bibliography at the back of the book. But I also did some first-hand investigations, experimenting with different ways to propagate, raise, and display cacti and with ways to cook them. As part of my research, I traveled throughout the deserts of the Southwest and visited various cactus gardens and preserves in Arizona and California. I took a lot of photographs during my research, some that will soon be available for view on this Web site."  
Back to Books by Anita Holmes.