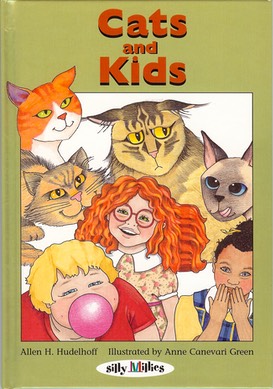 Cats and Kids
A Silly Millies Book
by Allen H. Hudelhoff (aka Anita Holmes)

illustrated by Anne Canevari Green
The Millbrook Press Ink, Brookfield, CT. 2003
ISBN 0-7613-2668-5 lib. bdg.
ISBN 0-7613-1783-X pbk.
ABOUT THE BOOK
Cats have different looks, but are alike in many ways. Kids have different looks, but are alike in many ways. Can different kinds of cats be friends––those with different eye colors, for instance, or those with different kinds of hair? Can different kinds of kids be friends––those with different eye colors, for instance, or those with different kinds of hair? 
In this fun and easy-to-read nonfiction book that celebrates diversity, children find out the answers: "Yes!" The book is engaging and the illustrations are full of fun. Although Cats and Kids may be simple and it may be silly, it packs a powerful message.
HOW THE AUTHOR
Allen H. Hudelhoff is a pen name sometimes used by Anita Holmes.
HOW TO PURCHASE

Although currently out of print, Cats and Kids can be obtained through used bookstores as well as online distributors. A few autographed  hardback Library editions are available directly from Anita Holmes for $45. Autographed paperback editions are $15.99. Free shipping in the USA. Follow the directions on the Contact page to order.
REVIEWS
"You might wonder what our feline friends and kids have in common. In this early reader (non-fiction) in the "Silly Millies" series, young readers will learn that cats can have eye colors that range from green to yellow and lots in between. Kids, too, can have green, blue, hazel, or yellow-brown eyes, among others. Also, like cats, kids have hair that can be straight, curly, long, short, or wavy. Cats and kids love to play and both are fairly sociable creatures. They both need love and friends. The point is easily made that we are all the same, but also different in ways that give character rather than differences of significance. . . ."  – Marilyn Courtot, barnesandnoble.com

"The story is about how cats are different and children as well are different, but all can get along and play together. This book could be used in a diversity lesson. It is a must in an elementary library."  – Fort Worth I.S.D. Book Reviews
"Adorable book showing how cats and kids are the same and how they are different. . . . Great book to show youngsters what is meant by the same and different."  – Montgomery County District Center, Children's Book Review Committee
"Great book for encouraging diversity and acceptance of others' differences. Clever and humorous . . ."  – Paula Morgan, Cypress-Fairbanks Independent School District, Houston, TX
"The double page spreads alternate by showing cats and humans. The first pages say "So many cats. So different, but alike." The pages with the humans say "So many kids. So different, but alike." The book compares other items, eyes, hair, playing love and friendship. The book ends on positive note about friendship. The tips for reading and discussion for parents on the last page is written in red ink which is OK when it appears on a white star background but is difficult to read against the pink background.
    "Young children learn as they read. They read and see different kinds of eyes in cats and different colors in different faces in human children because the children represent different ethnic groups. Teachers who are looking for books about values will find this book helpful. The message is clear but not didactic.  This is a valuable purchase for school and public libraries."  – Mary Ann Paulin, Director; Superiorland Preview Center, Marquette, Michigan

ABOUT THE SERIES
"The Silly Millies are carefully crafted early readers designed to help kids move from one reading level to the next on their way to independent reading. The combination of facts and fun in these nonfiction readers makes this an excellent choice for your beginning readers."  – Lea McGee, Literacy Education Professor, University of Alabama


Back to Books by Anita Holmes.