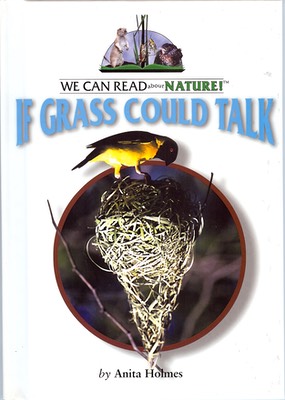 If Grass Could Talk

by Anita Holmes

Benchmark Books, Marshal Cavendish, New York. 2001

ISBN 
0-7614-1111-9

Grasses are among Earth's most important and ubiquitous plants. There are many types of grasses ranging from tall bamboo to common lawn grasses and many places around the world where they flourish. 
In If Grass Could Talk, where grasses grow and how they are used by people and animals is explained from the point of view of the grasses. What might grass say if grass could talk?  Perhaps . . .
". . . we grow in fields and meadows. We are food for sheep and cows and horses."
"People turn us into wonderful objects [baskets, scarecrows, houses]."
"Animals build nests with us."

"We make safe places for animals to live and hide."
These are among the many ways grasses are important, and they would tell you that "if grass could talk."
Back to Books by Anita Holmes.