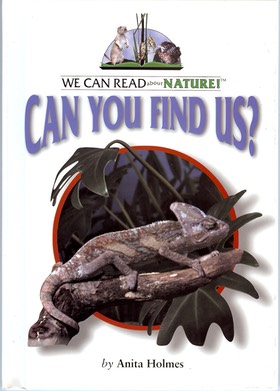 Can You Find Us?
by Anita Holmes

Benchmark Books, Marshall Cavendish, New York. 2001

ISBN 0-7614-1108-9

Can You Find Us? presents a simple discussion of how nature uses color, patterns, and shapes to protect animals from predators. "Who's hiding there," the book begins as readers are invited to search the photographs for animals disguised to blend into the environment. 
For their efforts, readers will discover some amazing animals: a green dragonfly, a grasshopper nymph, a green tree frog, a horned frog, a foam nest tree frog, a crab spider, a false stonefish, a Brook's gecko, a chameleon, an Arctic fox, a white-tailed deer fawn, a herd of zebras, a dead-leaf katydid, a walkingstick, a treehopper, a group of impalas, a boa constrictor, and a white-tailed ptarmigan. 
Back to Books by Anita Holmes.